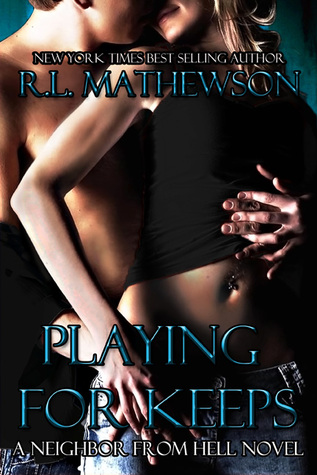 Done with being the world's biggest pushover, Haley decides that things are going to change starting with the aggravating neighbor who has too much charm and not enough restraint. What she didn't expect was to be sucked into his world, but Haley has a game plan and she won't let herself forget just what the bad boy next door is capable of. 
The last thing Jason expected was for his little shy neighbor to go Rambo on him over some ruined flowers. After he decides to take her under his wing he can't help but notice that she fits very nicely in his life. Now the only thing left is to convince her that this is anything but a game.
---

THOUGHTS
~ What I Liked About the Book ~
This book was not what I was expecting. I thought it would be angsty and sexy, which was the vibe I got from the cover and the book description, but it was actually cute and funny.
This book had me smiling for the most part. It was hard not to when reading about Jason and Haley's interactions. There was also an ongoing humor about Jason's love for food, and although unrealistic, it was amusing.
I genuinely loved the fluff between the two main characters, especially the scenes prior to their getting together. Everything was so adorable.
~ What I Didn't Like About the Book ~
I hated how disjointed the entire book felt. Sure, the scenes were amusing, but they were jumpy. A lot of them also felt unnecessary and were present just because they were cute or funny; they didn't move the plot forward or establish anything new about the characters' relationship. This would have made for a great read if it weren't so scattered.
Sometimes, the book also felt like it was too much. Though I enjoyed Jason and Haley's interactions, at some point, reading about them began to feel exhausting. It's that feeling you get when you've been out socializing the whole day, and you just want to curl up in a hole and hide. I didn't know it was actually possible to feel this way about a book, but it drained me because the characters were so hyperactive. Maybe I shouldn't have read the whole thing in one sitting.
I also felt that the conflict was meh. It only happened because Jason behaved immaturely and Haley overreacted. The way it was resolved didn't make sense to me either, but at least epilogue made up for it.
In the end, I liked this book more than I hated it.
VERDICT
🌷🌷🌷
Playing for Keeps is a humorous though highly unrealistic romance. Read it if you're looking for a laugh rather than a good story.
LINKS
For a complete list of my book reviews, click here.